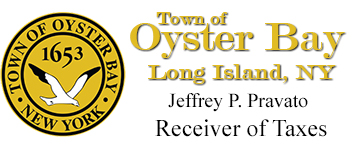 Welcome to the Town of Oyster Bay
Online Tax Payment Portal
---
Login Page
What if I forget my password?


If you have forgotten your password select the forgot password link on the login screen. This will send a temporary password to the registered email address and will allow you to change your password upon login.

Oops! I forgot my password and after repeated attempts to log in my account is now locked.


You get 5 attempts to log in before your account is locked for security purposes. Please contact the tax office directly and they will be able to unlock your account and help you to reset your forgotten password or registered email.
Tax Bills
When will the General 2019 tax bills be Available?


The Tax Bills are available to be paid online effective January 9, 2019.  You will also receive a bill in the mail.

How can I get a discount on my taxes?


If you pay both tax installments at the exact same time, and they are paid before the end of the first installment period (November 10 for School and February 10 for General), you will receive a 1% discount on the second installment. Both payments must be made at the exact same time.

Do I have to pay online to get the discount?


No, you can pay online, by mail or in person to receive the discount. The address is 74 Audrey Ave. Oyster Bay, NY 11771-1539.

What is on the back of the School Bill


Click here to see a copy of the back of the school bill.

What is on the back of the General Bill


Click here to see a copy of the back of the general bill.
Convenience Fees
What are the convenience fees associated with online payments?




ACH Check Fees Are:
$1.75 for payments up to $50,000
$3.00 for payments between $50,000.01 and $75,000
$6.00 for payments between $75,000.01 and $100,000
$10.00 for payments between $100,000.01 and $150,000
$15.00 for payments between $150,000.01 and $250,000

2.45% with a minimum of $1.95 for MasterCard, Visa, Discover and American Express cards.
$3.95 for Visa Debit Cards.

Does the Town of Oyster Bay receive a portion of the convenience fees?


New York State law mandates that the Town of Oyster Bay receives no portion of the convenience fee – this fee is retained by the payment processing vendors enabling the transaction. The fee schedule is in accordance with credit card companies and clearing house established rates.

What kind of Checking Accounts can be used to make an ACH payment?


Personal Checking Accounts only. Not Commercial, Broker, Savings or Home Equity Checking Accounts.
When keying in checking account number, DO NOT add check #.

I accidentally paid the wrong tax. (School instead of General etc)


If you paid by ACH check it cannot be stopped. It takes at least 5 business days to clear your bank. We would then reverse the payment ($20) fee. We would send you a refund check in 3-4 weeks. You must tell us within 3 business days or we cannot reverse it.  The same applies to a credit card payment.

After I paid online by CC I decided I do not want to pay the convenience fees and want the transaction stopped.


Payments made via the website are final and are not reversible. Please use caution when entering online payments. 
Create User
What are the password strength requirements?


You need to have at least 5 characters consisting of mixed case letters and at least 1 number.

If I cannot find my password can I get a new one?


Yes, request another from this site.
Search Results
How do I register my owned properties returned in the search to my user account?


By selecting the check box next to the desired parcel within the search results and hitting the Register Selected Properties button will add that parcel to your user account.

How do I register more than (2) owned properties as a resident?


If you need more than two (2) owned properties registered, please contact us via email indicating how many properties you will need.

Can I have more than one registered account for this site?


No, only one. This Government site is strictly monitored and multiple accounts with different email accounts will be deleted.
Search
What if I cannot find my parcel listed when I do a search by Owner name?


The owner name search is a Contains search, meaning that if you type your name out as John Smith and on your tax bill shows as John M Smith then it will not be returned in the search results. The best thing is to type your name exactly as it is on your tax bill.

Ok, the name search failed. How else can I find my property?


You can also search for your property by address, bill number or Tax Map # (Section, Block and Lot). (use only one) If searching by address, enter the house number and the first few characters of your street name.
Registered Properties
Can I register properties that I do not own or hold a personal or legal interest in?


No, this site is for owners of properties in the Town of Oyster Bay. Any use to the contrary may result in account deactivation.

How do I register properties that I do not own?


For general inquiries or commercial "Read Only" use of the information, there is an annual subscription fee of $2,500.00. Please contact the Receiver of Taxes here

I am a resident/non-resident of the TOB and I own or work for a Title Co, Mortgage Co, Real Estate Co, Builder etc. Can I use this site?


No, residential use only. Commercial use would be $2500 per year.

Can I just 'View' other residents properties?


No, unless you have purchased a commercial "READ ONLY"online account.

How can I re-activate my account?


Go to the Contact Us area and send us an email. We will then re-activate you.
Tender/Payment Confirmation
How long does it take to receive my Proof of Tender by email?


As soon as you make the payment a screen will pop up and you will have the ability to print the online tender acknowledgment.  You will also receive an email advising of the tender confirmation.
Tender/Payment Declined
Why was my attempted payment declined?


Contact your bank or credit card provider for info.

Why was I charged a Dishonored Transaction fee of $20? (Electronic Check)


If you entered a wrong Routing # or Checking Account #, your transaction is considered incomplete. Payment will be reversed when your bank advises us & you will be charged a $20 dishonored check fee.  As per NY State Consolidated Laws, Gen Municipal Law-GMU 85.

Why was I charged a Dishonored Transaction fee of $20? (Credit/Debit Card)


If a credit/debit card transaction is dishonored after initial tender acceptance, your transaction is considered incomplete, payment will be reversed and you will be charged a $20 fee. (Fee set by 5-328 General Obligations Law)

Why can I no longer make online payments?


Any dishonored online transaction will result in the loss of the ability to make further online payments.

When will my account be enabled again to make online payments?


Once a replacement payment is processed, this feature will be restored. A replacement payment must be made using a Bank/Certified Check, and include original amount due, $20 dishonored transaction fee, and any applicable late payment penalties. 

Can I be prohibited from using the online system?


Yes, it is at the discretion of the Tax Dept. This is an optional service and not mandated by NYS Real Property Tax Law.
My Profile
How do I stop receiving emails?


If you would like to stop receiving reminder and all other emails from the tax office, Log in and go to "My Profile" and check the Inactivate Account box and click save. If you should want to re-activate your account in the future, please contact the tax office directly.
Privacy
Is my information secure?


We collect no information about our users that is not supplied voluntarily through web forms or e-mail. Any information collected in this manner is never shared with anyone unless expressly requested by the user. We do not sell or reveal user information to anyone outside the tax office.
---
Disclaimer
The information contained on this website and its pages is obtained from municipal databases. In the event of a discrepancy between the information displayed on this website and the information contained in the databases maintained by the municipality, those maintained by the municipality shall prevail. No errors on this website excuse or lessen a user's actual tax liability. If you feel your tax liability or other information presented is in error, please contact us or check directly with Town of Oyster Bay Tax Receiver's Office.