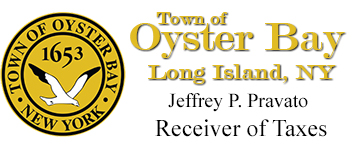 Welcome to the Town of Oyster Bay
Online Tax Payment Portal
---
You can pay your taxes online with a checking account for a small fee or by credit card
for a much higher fee charged by the credit card companies.
(The Town of Oyster Bay receives no portion of the fee)

For more information please call the Tax Office at 516-624-6400 or email receiveroftaxes@oysterbay-ny.gov. 
If you have not yet registered on this site, please enter your email in the
New Users
section below and click on
Register
Jeffrey P. Pravato
Receiver of Taxes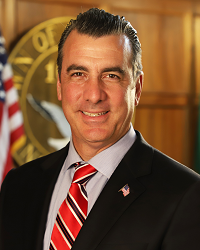 Important Note
We are here to serve you online. The online system extends the hours of availability, but will not be available during maintenance periods. Payment information may also not be available at certain times due to additional system maintenance activities. If your transaction has a due date associated with it, it is your responsibility to ensure that your payment is made by that due date. Delays caused by unavailability of any online service DOES NOT warrant the reversal of late fees.
*Most mobile devices can be used to pay your taxes.  Older devices may not work properly due to outdated technology. *If you experience an issue using Safari as your browser, please use Chrome.
Please Note:
Convenience fees for payments are collected in a separate transaction in accordance with the applicable
fee schedule
. In addition, New York State law mandates that the Town of Oyster Bay does not receive any portion of the convenience fee – this fee is retained by the payment processing vendors enabling the transaction. 
*Please note that payments via the website are final and not reversible.  Please use caution when entering online payments.

This website is for Town of Oyster Bay residents use only. Title & Abstract Companies, Management Companies and Banks not paying through a TSO must remit payment by paper check and include a $10 duplicate bill fee. Failure to include a $10 duplicate bill fee will result in payment being returned.
---
Disclaimer
The information contained on this website and its pages is obtained from municipal databases. In the event of a discrepancy between the information displayed on this website and the information contained in the databases maintained by the municipality, those maintained by the municipality shall prevail. No errors on this website excuse or lessen a user's actual tax liability. If you feel your tax liability or other information presented is in error, please contact us or check directly with the Office of the Receiver of Taxes.